The Rieslings of Weingut Keller are absolutely sublime, highly sought-after, food-friendly cult wines, once named the "German Montrachets" by Jancis Robinson. The Keller portfolio today includes these site-specific, terroir-driven Riesling wines in a wide range of styles, along with some other local whites and a touch of Pinot Noir.
The History of Weingut Keller
The origins of Weingut Keller date back to 1789, when a man by the name of Johann Leonhard Keller first emigrated from Switzerland to Germany during the French Revolution. After settling in Dalsheim, he purchased the 10-acre Oberer Hubacker vineyard of the historic Dalsheimer Hubacker property. This plot had already been planted to Riesling and is today classified an Erste Lage (or « first class » vineyard) by the VDP (the Association of German Quality and Prädikat Wine Estates). Throughout the centuries that followed, the Keller family conducted extensive research into the soil types and wine growing methods in this region, allowing them to rediscover previously neglected and forgotten plots like their flagship Abtserde site. To do so, they looked for information in old texts about wine growing from the Middle Ages. In 2000, a 6-meter-high stone tower was erected on the Oberer Hubacker parcel to emphasize its importance and quality.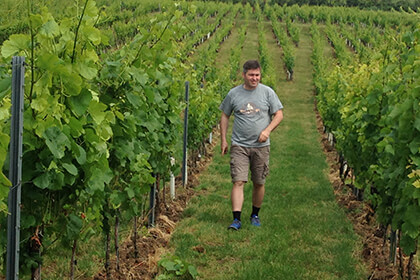 In 2001, the Klaus-Peter and his wife Julia took over the direction of Weingut Keller from Klaus-Peter's father Klaus Keller. Having trained in winemaking in South Africa and through internships in Burgundy (at the Armand Rousseau and Hubert Lignier estates), he earned his degree in oenology and viticulture at Geisenheim University and joined his father at the family estate. While relying closely on the traditional know-how passed down from generation to generation of Kellers, Klaus-Peter has certainly left his signature touch on Weingut Keller. He has continued to focus on vineyard work, but now ferments his whites more in old oak foudres rather than stainless steel and allows the grapes to macerate on their skins for 30-40 hours before the press - a novel approach. He has also switched the focus of the estates from the famous sweet wines of his father to more dry wines.
In the past few decades, Weingut Keller has single-handedly led the Renaissance of the Rheinhessen region, which did not have the best reputation before their arrival. Their signature vineyards – Hubacker, Kirschpiel, Morstein and Abtserde – have become legendary among wine lovers, representing a kind of spiritual holy ground for dry German Riesling. In fact, in 2008 Jancis Robinson wrote about these wines in the Financial Times, saying: "If I had to choose one wine to show how great dry German Riesling can be, I would choose a Keller Riesling. Those wines are the German Montrachets."
And while its signature GG dry Riesling wines are among the sought-after white wines in the world, Weingut Keller also produces Sylvaners, Scheurebes, Auslesen, BA and TBA styles, along with some Spätburgunders (or Pinot Noir), which Klaus-Peter considers the "Red Riesling."
The Weingut Keller Terroir in Rheinhessen
Weingut Keller is a based in the Hugelland area of the Rheinhessen, in the municipality of Flörsheim-Dalsheim in the Wonnegau area of Germany. Today the estate expands over 18.5 hectares of vineyards in the carefully-chosen sites of Burgel, Hubacker (Dalsheim), Frauenberg, Silberg (Monsheim), Brunnenhäuschen, Morsteing (Westhofen) and Kirschspiel. Most recently, Keller has also forayed into the northern Rheinhessen, where he now cultivates vines in the red soils of Hipping and Pettenthal (Nierstein).
These vineyards are planted mostly with white varieties, roughly 80% Riesling, which is accompanied by Pinot Gris, Pinot Blanc, Chardonnay, Sylvaner, Rieslaner and Scheurebe. The estate also includes 1.5 hectares of Spätburgunder or Pinot Noir vines planted on rolling hills of limestone. In Hugelland the terroir is dominated by rocky limestone soils, while red slate soils are prominent on the banks of the Rhine River near Nierstein. These soils are perfect for making dry, racy wines with a bright minerality.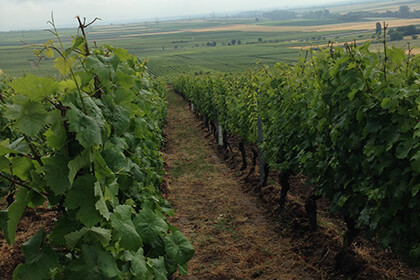 Klaus-Peter Keller and his team spend a great deal of care nurturing the vineyard, treating the soils with rock flour, mulch preparations and organic fertilizers, which are meant to improve the structure of the soil and increase the vines' natural resistance to pests and diseases. All of the vineyard work is done by hand, including pruning, deleafing and shoot positioning.
The great Riesling wines of Weingut Keller are produced only from vines that are 25 years or older. These old vines do not require green harvest and give naturally low yields of very complex fruit. Meanwhile, fruit from the younger vines go into their more entry-level bottlings, like their crisp and easy-drinking "Von der Fels" Riesling.
A Minimal Intervention Winemaking at Weingut Keller
Following a highly selective manual harvest of perfectly healthy and physiologically ripe fruit, the Weingut Keller team carries out a largely non-invasive, minimal intervention winemaking with the aim being to preserve as much as possible the natural, terroir-driven characteristics of the grapes.
The fruit is left to macerate for up to 24 hours on its skins before pressing. The musts go through spontaneous fermentation at low temperatures using natural, autochthonous yeasts found in the vineyard. Alcoholic fermentation takes place for a period of 8 to 10 weeks.
The wines are aged, depending on the characteristics of their terroir of origin and style desired, in stainless steel vats or large oak barrels.
The Weingut Keller Portfolio of Terroir-Driven Masterpieces
The best-known bottlings of Weingut Keller are their dry wines made of Riesling, among which the rarest and most sough-after cult wine is their G-Max Riesling, also the most expensive Riesling in the world. The Keller portfolio includes a wide range of more accessible wines, including Rieslings in a wine range of styles. These are excellent food pairing wines, matching beautifully with a wide range of dishes.
The Weingut Keller RR Riesling comes from a very small 0.8-acre plot of red soil surrounded by limestone soils. Produced in limited quantities only, this Riesling has been described as a brooding white wine with a darker mineral expression, revealing nuances of wet stones, tobacco, moist earth and clay on the nose.
The Keller "Limestone" Kabinett Riesling is made with Riesling grapes from the "First Growth" Kirschpiel and Abtserde vineyards, where – obviously – limestone reigns supreme. This wine has been recognized for its perfect balance of sweetness and acidity, offering notes of white florals, dried herbs, orchard fruits, citrus peel and talc minerality on the nose. Pair this Riesling with light, mildly spicy dishes like shrimp spring rolls with a peanut dipping sauce or a light coconut curry.
The Keller "Von der Fels" Riesling is made from younger vines and reveals on the nose an elegant and mineral profile, with fresh pineapple and peach aromas. On the palate, this wine is quite dry with a vibrant acidity and a long finish. The perfect pairing to shellfish dishes like seared scallops or fresh crab.
The Weingut Keller portfolio also includes some non-Riesling white wines, such as their "Von Muscheligen Kalk" bottling, which is produced from a 1-acre plot of fossilized mussel shell limestone. This cuvée is a field blend of Pinot Blanc and Pinot Gris, harvested together and co-fermented in a large neutral oak barrel. This very special dry white wine reveals juicy peach and pear aromas, along with floral nuances of verbena and apple blossom, and a crushed seashell minerality.
The Keller Rieslaner Auslese is made from the Rieslaner variety (a cross between Sylvaner and Riesling) grown in the Silberberg vineyard in Monsheim. Fermented in stainless steel to maintain the grape's unique varietal character, this rich and concentrated wine offer notes of ripe peaches, lychee and red currant with a pleasant acidity.