The story of Evening Land Vineyards is the story of stewardship over a very special piece of land called the Seven Springs Vineyard. While this historic vineyard has changed hands several times since it was first planted in the early 1980's, some things have remained constant through all those who have tended its vines: a profound respect for terroir, a sustainable viticulture and a Burgundian approach of minimal intervention winemaking. The result? A remarkable collection of award-winning Pinot Noir, Chardonnay and Gamay wines, which reveal in every drop a timeless elegance and effortless complexity.
The History of Evening Land Vineyards: Stewardship of the Seven Springs Vineyard
The legendary Seven Springs Vineyard was first planted in the early 1980's by Al MacDonald, a pivotal figure and pioneer of Oregon wine. He fell in love with this beautiful site, surrounded on one side by a forest of Douglas firs and offering scenic views of Mt. Hood and Mt. Jefferson in the distance. MacDonald planted 16 acres each to Pinot Noir and Chardonnay in what would become the most widely acclaimed vineyard in the Willamette Valley. Cultivating his vines with great care, MacDonald brought the Seven Springs vineyards to the apex of recognition in 2005, the year in which it was named one of top 10 vineyards in the United States by "Food and Wine" magazine.
In 2007, the Seven Springs Vineyard entered a new chapter of its story, when movie producer, writer and passionate food and wine aficionado Mark Tarlov signed a temporary lease on the vineyard. Tarlov engineered a deal to reunite two sections of a historic 80-acre vineyard in the Eola-Amity Hills AVA of the Willamette Valley: the historic Seven Springs Vineyard and the adjacent Anden Vineyard, which had been separated from its neighbor due to a family dispute. Upon this most cherished of Oregon terroirs, Evening Land Vineyards was established. Legendary Burgundy vigneron Dominique Lafon joined the project as a consultant in the development of the vineyard, working closely with winemaker Isabelle Meunier to create the signature Evening Land Vineyards style, a style that would come to redefine the potential of Oregon wines. The principal goal of this talented team? To elevate the perception of American terroir and shift focus from the great Cabernets of California to the star varieties of Oregon: Pinot Noir and Chardonnay.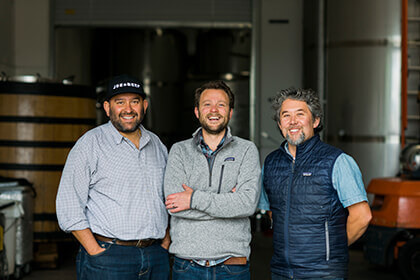 In 2012, Tarlov left the team after his management contract came to an end. He was succeeded as CEO by Greg Ralston, who had 20 years of experience at the legendary Chateau Montelena in California. In 2014, James Beard award-winning author and celebrated sommelier Rajat Parr took over as CEO and brought with him California winemaker Sashi Moorman to run the cellar and Benjamin DiCristina as winemaker. Since 2014, Parr and Moorman have made several changes, including grafting some of the less successful plots of Pinot Noir to Chardonnay and adding new acreage of mostly Chardonnay vines. Together, these two stand as faithful stewards of the historic Seven Spring Vineyard, bringing this cherished terroir into its fourth decade of producing benchmark New Work wines.
The Evening Land Vineyards Terroir : One of Oregon's Most Cherished Sites
The 70-acre Seven Springs Vineyard is planted mostly with Pinot Noir, followed by Chardonnay and Gamay Noir vines, which stretch their roots deep into iron rich and rocky volcanic soils in the Eola-Amity Hills AVA. The vineyard is situated on a dramatic slope with eastern exposure, which exposes the vines to warm rays of sunshine in the morning. The vineyard is located opposite of the Van Duzer Corridor, through which cool Pacific winds flood during the day, mitigating the hot summer afternoons that characterize the climate of the Willamette Valley. This cooling affect and the eastern exposure of the vineyard allow the grapes to hang onto the vine a bit longer, ripening gradually and preserving their natural acidity.
The Seven Springs Vineyard has always been dry-farmed. The vineyard is certified for sustainable winegrowing by LIVE and was fully converted to biodynamic viticulture back in 2007. In terms of winemaking style, Evening Land strives to produce wines that reflect the pure essence of their cherished vineyard without adding or removing anything during the process. The team embraces the unique personality of each passing vintage, rather than attempting to produce something uniform from one year to the next.
The Wines of Evening Land Vineyards
The wines of Evening Land Vineyards showcase the three Burgundian varieties – Pinot Noir, Chardonnay and Gamay – grown in a unique microclimate of Oregon's Willamette Valley. A good place to start exploring their portfolio is the Seven Springs Pinot Noir, produced with fruit from vines aged 35 years on average, hand-harvested and hand-sorted. The vinification here is carried out with around 35% whole clusters with a soft extraction through gentle punch-downs. The wine ages for 12-16 months in around French oak barrels, of which around 20% is new. This Pinot Noir offers bright and botanical aromatics, and a concentrated palate of rich fruit, buttressed by a lively acidity and refined tannins. Their Anden Pinot Noir is made in a similar way, though with a higher degree of whole cluster fermentation (100% in the 2016 vintage). This age-worthy wine is matured in 100% new Ermitage barrels for 16 months to produce a sleek and savory Pinot Noir with a haunting complexity.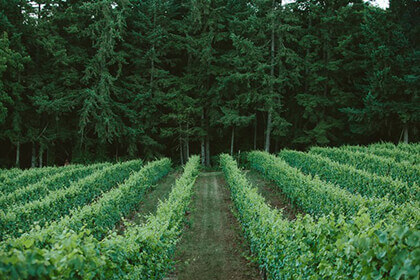 And for those who prefer white wines, the Chardonnay wines of Evening Land Vineyards are also quite beautiful. Their Seven Springs Estate Chardonnay, for example, is made by means of whole cluster pressing before fermentation in used French barriques and 500L Stockinger puncheons. This Oregon Chardonnay was matured for 12 months in barrel and then another 6 months in tanks. Bursting with aromas of stone fruit, this is a graceful, balanced Chardonnay with a smooth texture, zesty acidity and a saline touch at the finish.