HOW




TO START A WINE


COLLECtION
in 10 Simple Steps
Imagine your ideal wine collection - carefully chosen and neatly arranged bottles of your favorite wines from around the world. Some are ready to uncork the next time you're entertaining clients, family or friends. Others are cellared away to continue aging in peace until ready.

Starting a wine collection is a deeply personal affair. Nevertheless, there are some simple guidelines that can steer you in the right direction and help you curate a collection that is dynamic, comprehensive and representative of your taste.

As one of the leading wine merchants of fine and rare wines with over 30 years of experience and more than 300,000 successful international deliveries to over 150,000 customers around the world, we at Millesima know a thing or two about starting and re-stocking a wine collection. Follow these 10 simple steps and build the wine collection of your dreams.

A matter of Taste :
Defining Your
PERSONAL
STYLE
Your wine collection should – first and foremost – be an expression of you, your lifestyle, personal taste and preferences. So, take a moment to reflect on your intentions for starting a wine collection and how you plan to integrate it into your life.

Will your cellar serve mostly as a place to age wines or will it be for everyday use? Will these wines be opened on their own or at the table with food? And if they are destined for pairing, are there any particular dishes or cuisines that you enjoy most? Is there any particular style of red wine or white wine that goes best with these foods?

Think back on the last few wines that truly spoke to you and jot down their names. Now, think of wines that you've heard of and have been meaning to taste. Jot these down too. What do these wines have in common? Are they mostly red or white? Are they young and fruity or aged, smooth and nuanced? Are there any particular grape varieties that stand out among others? While it's important to have balance and variety, it is most important for your wine collection to be based on your own personal style.

The Right Cellar
for Your Wine
Collection
For a bottle of wine to age safely through years (or even decades) in your cellar, it is important to secure the right wine storage conditionsst. Wines should ideally be aged in a dark environment, at a cool and - even more importantly – steady temperature of around 55° F, and a relative humidity of 50-80%. In order to prevent the corks from drying up and shriveling (resulting in oxidized wine), wine collectors usually lay their bottles on their side.

Of course, if you happen to have a cool, dark and not-too-humid basement, all you will need are a few simple wine racks to create the perfect wine cellar. You may choose to expand the space into a dedicated wine room, with racks lining the walls and a tasting area in the center. If this is not the case, however, it can be helpful to think back on Step 1 to determine where to store your wine collection.

For a wine collection designed for everyday use, an electric serving cabinet could be the best option. Or, choose a multi-temperature, multifunction cabinet to store wine meant for aging. These days, electric wine cabinets come in a wide range of functions and sizes. Choose the one that suits your lifestyle and budget.

And if you do not have the space, or if your wine collection is meant mostly for long-term aging, you may want to consider external wine storage options. Our 200-year-old, historic wine cellar, situated in the heart of Bordeaux, offers ideal storage conditions and is currently home to some 2,500,000 bottles of wine. Choose to store your wine with us until you're ready to have them delivered.
Choosing Wine Regions and Wine Producers
One of the best reasons to start a wine collection is to expand your understanding of the wine world and train your palate. Diversity is the key ingredient when designing a dynamic, exciting wine collection. But again, start from your own preferences.

Wine

REGIONS
Passionate about Cabernet Sauvignon? Choose a few warm-climate Cabernet wines (from Napa Valley, for example) and compare them with cool-climate Bordeaux Cabs. Strong preference for French wines? Choose classic wines from various regions – a pure Pinot Noir from Burgundy, a Syrah from the Northern Rhone and a Loire Valley Cabernet Franc. Better yet, taste wines from various appellations within the same region.

Wine

PRODUCeR
Take Bordeaux for instance. Compare Left Bank to Right Bank, Médoc to Graves, Pauillac to Saint-Julien. And if you have a favorite appellation, try the wines of its various wine producers to compare different styles. The Millesima website includes tasting notes for most of the wines offered and serves as a great reference to learn more about different wine regions, appellations and producers.

Choosing the
Right
Vintages
Bordeaux 1982, 1986, 1989, 1990, 2000, 2005, 2009, 2010, 2015, 2016… Burgundy Red 1985, 1990, 1995, 1996, 2005. Burgundy White 1990, 1996, 2001… We all know that some vintages stand out among others.
And while it's tempting to invest only in these most famous years, a more European approach is purchasing wines from medium and even "off" vintages to include in your collection. Train your palate with vertical tastings to discover the different expressions of the same wine. Diversify your collection by choosing a variety of old and new vintages, ready to drink now or to keep for longer.

Finally, invest in vintages with personal, sentimental value from years that mark important occasions. Think birthdays, weddings, work anniversaries… These will make the perfect gifts and celebration wines years from now.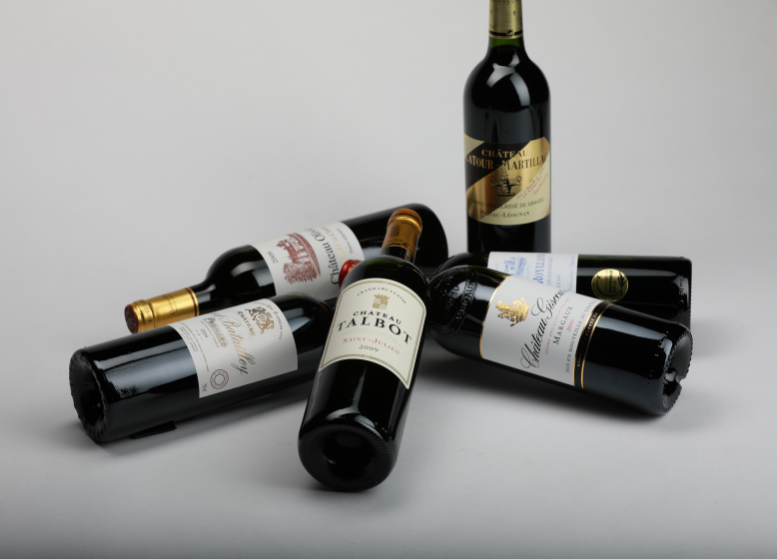 Why Buy




Large Format


Bottles
The Magnum, the Jeroboam, the Melchior, the Melchizedek… These oversized bottles, ranging from 1.5L to 30L, add a definite wow-factor to any collection. But they serve many purposes beyond just looking cool. The larger the wine bottle, the greater the ratio between volume of wine in that bottle and air between the wine surface and cork, resulting in a slower oxidation rate of the wine. These large format bottles, especially the Magnum, are perfect for aging wine, making them a necessary staple of any great wine collection.

Because of their impressive size, large format wines make for very memorable gifts. And since they contain more wine than standard 0.75 bottles, they are also perfect for special dinners or celebrations involving several people.

Choose a Jeroboam to buy and age for your next big birthday party or a Balthazar to open at a loved one's wedding reception. Housed in the Imperial Library of the Millesima cellar in Bordeaux is the most extensive collection of large format bottles in Europe: over 12,000 bottles just waiting to be discovered!


WHITE
wines
to Complement the Reds
A well-rounded wine collection will include some white wines along with their red counterparts. Wine lovers planning a collection for everyday use may want to consider white wines that pair nicely with certain foods, be they fresh and young or aged a few years. Think of the classic pairings first: fresh Sancerre with a goat cheese tart or lobster tail with an oaky Chardonnay.

And for collectors seeking to age their bottles, white wines are still an attractive option. It is a common misconception that white wines do not age as well as reds. Given the right vintage conditions, the right terroir and the right winemaking style, a white wine can maintain its natural acidity, vital in any good wine, through many years, decades even.

Age-worthy white wines include the great Chardonnay whites of Burgundy, the Semillon-Sauvignon blends of Bordeaux and the cool-climate Rieslings of Alsace and Germany.


Age-worthy
Champagnes
to Include in

Your Collection
Add some sparkle to your wine collection with some carefully selected bottles of Champagne. Contrary to popular belief, wines with bubbles can age beautifully, with some Non-Vintage Champagne improving significantly over 2-3 years after its release, while Vintage and Prestige champagnes are built to age to evolve in the bottle over 20 years or more.

The longevity of a Champagne depends on its terroir of origin but also on winemaking techniques such as extended aging on lees. The iconic Dom Perignon, for example, is released in a series of aging cycles called "plenitudes," with its P1 aging seven years on lees, P2 twelve years and P3 aging 20 years or more. Nothing beats a carefully aged, Vintage Champagne when it comes time to celebrate a special occasion. As the freshness and high acidity of sparkling wines also make them great pairings with a wide range of dishes, it's also good to have some of them around for family gatherings around the table. And if Champagne isn't your thing, try a Franciacorta from Italy, Cava from Spain or Crémant from other regions in France.

Sweet & Fortified
Wines
to Round out Your Collection
Some of the most age-worthy wines in the world are sweet wines and dessert wines, such as a French Sauternes, Hungarian Tokaji Aszu or Recioto della Valpolicella. In these wines, the high level of sugar acts as natural preservative. The most important factor to consider when looking for sweet wines to age is acidity. Wines with enough acidity will taste balanced and age beautifully, taking on a deeper, golden hue and incredibly complex flavors over time. Or, consider accenting your collection with a few few fortified wines, which are produced by adding a neutral distillate that preserves the wine over time. Fortified wines that have spent time maturing in oak boast an incredible capacity for age, up to 75 years for some Sherry and even 150 years for some Tawny Port!

Follow the Wine
Trade Calendar :

Wine Futures

anD
Special Offers
Familiarizing yourself with the wine trade calendar will help you find the wines you want, no matter how rare. From April to June, look out for Bordeaux Wine Futures and get a good deal on highly sought-after and rare Bordeaux Classified Growths while they are still in the barrel. Millesima's user-friendly Wine Futures Alert Account is a great way to stay updated and avoid missing out. Similarly, Burgundy Wine Futures typically hit the market in late January. In late spring, look out for the release of the new vintage roses, and November is all about food-friendly wines like Beaujolais Nouveau. To receive special offers all year round, visit our Special Offers page and sign up for the Millesima Newsletter! Seasonal offers include big reds for festive meals in the fall, large format bottles for gifting during the holidays, Champagne for ringing in the New Year and cases to restock your cellar after celebrations.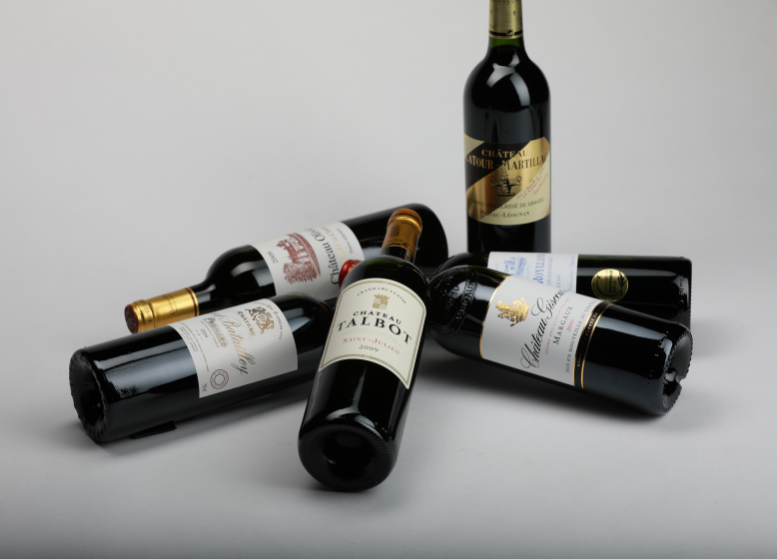 Why buy froM
MillesimA
Starting your own wine collection is an exciting endeavor, but one that comes with its own set of challenges. Millesima is here to help! We are a family business headquartered in Bordeaux but with customers around the world. Our seasoned wine professionals will work with you closely to choose the right wines for your cellar and develop your collection over time.

The Millesima catalogue is a thoughtfully curated selection of fine wines from top wine regions of the world, including a wide range of rare collectors' wines, like Large Format and Limited Editions. By buying wine from us, you can rest assured that your wines will be sourced directly from the estate that produced them, stored under perfect conditions until they are ready to be shipped, and delivered to your doorstep safely.