Why is Rosé Pink?
Rosé wines come in a wide array of colors, ranging from almost gray to onion-skin orange, from the salmon colored or pale pink Provençal rosé to the darker hued pink wine of Tavel. Since these wines tend to be somewhere between red and white wines on the color spectrum, some may be tempted to think that rosé is made simply by mixing the latter two. After all, red and white does make pink. But this would be a gross misconception. In fact, rosé wines are usually produced with one of three methods.
By the maceration method, the crushed grape skins are left to soak (macerate) in the juice for 2-24 hours, allowing the anthocyanins (color pigments) to leech out and dye the must. During maceration, tannins and flavor components are also transferred from the skin to the juice. Maceration is also involved in the production of red wines, but takes much longer, days or weeks as opposed to hours. By means of the rarer saignée or bleeding method, juice from red wine production is "bled off" the must and placed in a new vat, where it is used to produce rosé. Finally, the blending method involves adding a bit of red wine to a vat of white wine to produce a blend. This method is not allowed in the appellations of France, except in Champagne , where it is used to produce sparkling rosé wines – for example rosé champagne made with Pinot Noir and Chardonnay .
Where Rose Wines Are Made: Provence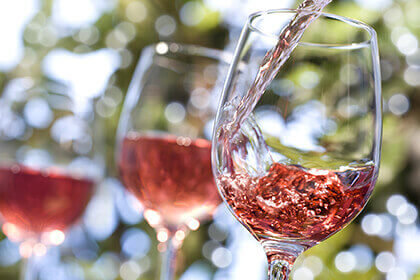 Rosé wines are produced all over the world. However, the undisputed spiritual home of this wine style is the Provence region of France, where around 88% of total wine production is dedicated to the pink wine. Provence is a geographically diverse region with a mess of mountain ranges, gentle slopes and sheltered valleys, home to limestone soils in the west and schist or volcanic soils in the east. The moderate Mediterranean climate combines with the effects of the Mistral wind to provide the ideal setting for dry, pest-free and sunny vineyards. The Provence region is home to 9 AOC appellations, the largest of which is Cotes de Provence . This appellation is also the most diverse, with a wide range of soil types and microclimates. The La Londe area, with its quartz soils and constant sea breezes, produces rosé from mostly Cinsault and Grenache red grape varietals. Meanwhile, vineyards in the Frejus area on the foothills of the Massif de L'Esternel have chosen the Tibouron as their flagship variety, producing easily recognizable copper and salmon colored rosés.
Some of the other appellations of Provence are Coteaux d'Aix en Provence (producing blends of Grenache, Mourvedre, Cinsault, Syrah and Counoise), Coteaux Varois de Provence in the heart of the region (blends of Cinsault, Mourvedre, Grenache and Syrah with Rolle, a white varietal) and Cassis (home to steep limestone cliffs, producing Marsanne and Clairette rosés with intense aromas of white peach, citrus, honey and herbs). Some of the most prized Provençal rosé wines come from the Bandol appellation, home to hillside vineyards planted on river stone terraces in the shape of a natural amphitheater. Here Mourvedre is king, a late-ripening and very demanding variety producing wines with a strong personality. These slightly darker rosés of Bandol are food-pairing wines, with enough body to stand up to a wide array of dishes. They can also be aged longer than most rosés, softening in tannins, developing a pale orange rim and revealing a fuller expression over time.
Where Rose Wines Are Made: Tavel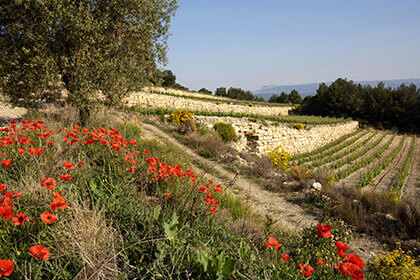 Nestled in the Southern Rhone Valley, on the right bank of the Rhone River and just across from Chateauneuf-du-Pape is Tavel , the very first appellation in France dedicated to rosé production, established in 1936. The climate here is still Mediterranean, with the vines enjoying 2,700 hours of sun per year on average and the drying effects of the warm Mistral wind. Tavel is made up of a variety of soil types, including alluvial on lower and middle terraces, followed by sandy soils, marl and limestone deposits and upper Barremian urgonian limestone. The rosé wines of Tavel tend to be more complex, full-bodied and dry than others and generally a deep ruby pink in color, earning them the nickname "King of Rosés" by Honoré de Balzac. Grenache, in its red, white and grey forms, is the main varietal used to produce rosés in Tavel, along with Cinsault , Bourboulenc, Clairette, Mourvedre, Picpoul and Syrah. Tavel rosé wines offer a complex of summer fruit aromas, smooth stone fruits and almonds, along with hints of spice.
Where Rose Wines Are Made: Corsica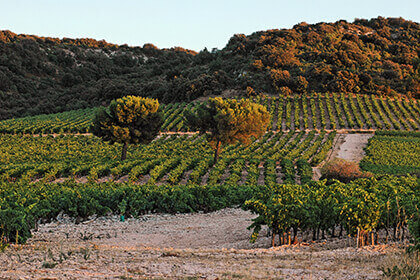 The beautiful French island of Corsica is home to 9 AOC appellations and a rich diversity of grape varietals – over 40 in total, of which around 30 are indigenous. In the Patrimonio AOC, rosé wines are made with mostly the native Nielluccio grape, complemented by Grenache, Sciacarello and Vermentino. The Ajaccio AOC is also known to produce rosé wines primarily from Sciacarello. Unlike the Provençal rosé, those of Corsica tend to be made with the bleeding method.
Where Rose Wines Are Made: The Loire Valley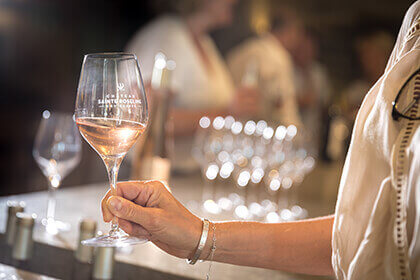 One of the most diverse wine regions of France, the Loire Valley is another great source for fresh and fruity rosé wines. In the cool-climate vineyards of Chinon, famous for the production of red Cabernet Franc wines, this varietal is also used to produce single-varietal Cabernet Franc rosé through the bleeding method. These tend to be medium in body and quite ripe, as the grapes were intended for red wine production and have thus reached optimal maturity before harvest. The Anjou region is dedicated to the production of rosé wines, which account for around one half of the region's total wine production. Anjou rosés include the dry Rosé de Loire AOP from Cabernet Franc and Grolleau and the slightly sweeter Rosé de Anjou from the native Grolleau grapes.
Where Rose Wines Are Made: Everywhere Else
While the rosé wines of France seem to enjoy the highest reputation worldwide, there are many other regions in both the New and Old Worlds that produce pink wine worth noting. In Spain , for example, rosé wines (locally known as "Rosado") are made from Grenache (Garnacha), Mouvedre (Monastrell) or Tempranillo, with the three varieties often blended together to create a bright pink wine that tends to be very dry on the palate. Rosé takes a sparkling form in the Penedes region of Catalonia, where Macabeu, Xarel-lo, Parellada and Monastrell varieties are blended to make rosé brut Cava.
The production of rosé is not limited to the Old World however, with fantastically fresh and fruity pink wines from Australia, New Zealand, South Africa and even England. And to quench the insatiable thirst for rosé in the United States , several wonderful domestic versions are also available, including Pinot Noir and Gamay rosé from cooler-climate regions of Oregon and Sonoma, rosé from Syrah in Napa Valley and the Merlot , and Merlot blend rosés of Long Island, which tend to be pale pink and Provençal in style.
Rosé Wine and Food Pairing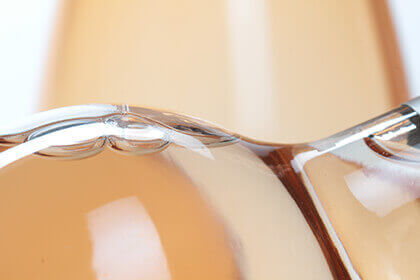 Rosé wines are especially popular to consume chilled in the summertime. These are easy-drinking wines with less tannins due to a shorter maceration period and they are available in a wide array of shades, ranging from the bone-dry onion skin pink Provençal rosé to medium-dry Cabernet Franc rosés of the Loire and sweeter White Zinfandel blushes from the US.
And while rosé wines are a fantastic choice for a light aperitif, they also work beautifully with a wide range of food pairings. In general, these wines tend to match light summer dishes, though the style and flavors of each rosé should be considered in choosing the right food with which to serve it. For example, rosé wines that are lighter in style will pair with delicate dishes, like a Salade Nicoise (with tuna and anchovies), sushi or quiche with leeks. Fuller bodied rosé wines from Bandol or Tavel have enough body to stand up to dishes with more seasoning – for example, grilled chicken with black pepper and charred vegetables. Meanwhile, rosés of the New World, which tend to be riper and slightly sweeter, pair wonderfully with spicy, warm-climate dishes, like Indian curry specialties or spicy Mexican food seasoned with chili peppers.