Why are red wines red?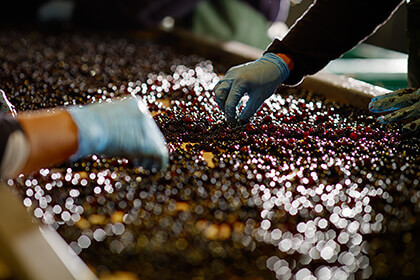 Red wines are produces from red grapes, the fruit of Vitis vinifera, the most commonly cultivated grape vine. These grapes, which are actually often closer to blue or purple in color, grow in bunches, which are harvested and fermented into wine. What gives red wine grapes their characteristic hue, setting them apart from white wine grapes are naturally occurring pigments named anthocyanins in the grape skin. Red wines become red during the maceration process, when anthocyanins and other compounds are leeched out of the grape skin into the must. This generally occurs while the must is fermented into wine. During maceration, the carbon dioxide released as a byproduct of fermentation pushes a hardened cap of skins up to the surface of the liquid, resulting in less contact between skin and juice. To increase this contact once again, winemakers often either push down the cap (a process known as pigeage) or pour wine from below the cap over it (remontage). Alternative forms of "making wine red" include cold soaking (by which the juice is left to soak with the skins under cold temperatures before fermentation) and extended maceration (by which the wine is left to soak with the skins after fermentation has already taken place).
Red wines can be made of red wine grapes from a wide spectrum of varietals and varietal blends, each one with its own characteristic fruit flavors. But while the grape varietal does determine the identity of a wine, it is the terroir of origin that lends it a unique personality. So let's take a look at some of the most famous terroirs for red wine around the world.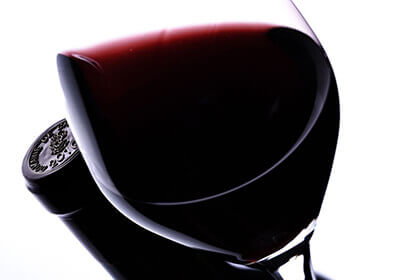 Red Wines: French Wine Regions and their Varietals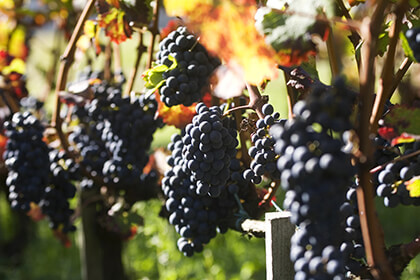 The red wine style most imitated around the world is the Bordeaux Blend, which is made with a combination of Cabernet Sauvignon, Cabernet Franc, Merlot, Petit Verdot, Malbec and Carmenere. Appellations like Saint-Emilion and Pomerol on the Bordeaux region's Right Bank (of the Gironde estuary) are home to a mosaic of soil types, consisting of limestone, clay, sand, gravel and iron deposits. These terroirs are best suited for producing Merlot-dominant red wine blends, with Cabernet Franc, Cabernet Sauvignon, Malbec and Petit Verdot also added. Over in Pauillac, St. Estephe, Margaux, Haut Medoc and other appellations of the Left Bank, the soils are predominantly gravel, perfect for the cultivation of Cabernet Sauvignon, which is the red wine grape of choice here. Cabernet Sauvignon develops great complexity in these terroirs, complemented by Merlot, Malbec, Petit Verdot and Cabernet Franc in the blend. Bordeaux Blends tend to be aged in barrels of new oak, which add complexity, depth and class, rounding out the black fruit flavors of the wine.
A very different approach is taken by the producers of appellations like Pommard, Chassagne-Montrachet, Meursault, Corton… in Burgundy, where Pinot Noir alone is used to produce single-varietal red wines, each of which offers a pure expression of its terroir. These wines, aged in used oak with less powerful toasted flavors, tend to be softer and lighter in body with a more delicate tannic structure. The Burgundian style is also adopted as a guiding philosophy in many regions around the world.
The Loire region, known as the "garden of France," is home to over 4,000 wineries producing a wide array of wines. Among the red wines, Cabernet Franc is king, especially in the Anjou-Saumur and Tourraine region. A close relative of Cabernet Sauvignon, Cabernet Franc ripens earlier, making it better suited for the cooler climates of the Loire Valley, where they are used to make wines like Sancerre, Chinon, Bourgueil and Saumur-Champigny. These red wines tend to make light bodied and less tannic, fresh and fruit forward wines with aromas of cherries and raspberries in their youth. The Loire style of red wine production has recently become popular among wine producers in cooler climate wine regions of the New World, including the Finger Lakes in New York State.
Finally, the Rhone Valley is known for producing some of the noblest red wines of France. The Northern Rhone is the spiritual homeland of Syrah, which makes for beautiful single-varietal wines with notes of raspberry, coffee, truffles, violet and its trademark black pepper in the Cote-Rotie appellation. Syrah can be blended with Marsanne and Roussanne (two white varieties!) in Saint-Joseph, Hermitage and Crozes-Hermitage to produce wines with a remarkable capacity for age. The Northern Rhone style has piqued the interest of producers in Virginia, who have begun to cultivate Syrah as well. This varietal has also captured the hearts of wine lovers around the world through the rich and sturdy, dark-chocolate scented Shiraz wines of Australia's Barossa region. The country's most famous wine, Penfolds Grange, is conceived from Shiraz sourced from some of the very best terroirs of Southern Australia. Meanwhile, the significantly warmer Southern Rhone is known for its dense, bold and earthy blends, containing some of the over 20 grape varietals of the region, including Grenache, Syrah, Mourvedre, Clairette, Grenache Blanc and Cinsault. Most famous of the Southern Rhone appellations is Chateauneuf-du-Pape, whose blends of up to 13 varieties requires tremendous patience and great expertise.
Red Wines: Italian Wine Regions and Their Varietals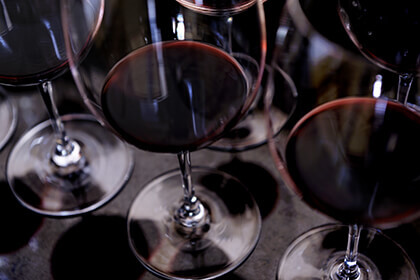 While France is the cradle of what are arguably the most internationally planted red wine grapes, Italy is perhaps home to the most diverse range of autochthonous red varietals.
Perhaps the most famous of Italian wine regions is Tuscany, home to one of the most stunning landscapes in the world of wine. Sangiovese is the flagship varietal of almost all of the region's best known red wines – leathery, earthy Brunello di Montalcino and Chianti Classico, where its blended with smaller amounts of Canaiolo and Colorino. And who can forget about the rebellious Super Tuscans, most famously from Bolgheri, with their powerful Cabernet Sauvignon blends?
While Tuscany relies mostly on Sangiovese, the Piedmont region introduces us to a whole new spectrum of Italian red wine grape varietals. The most loudly lauded of these is Nebbiolo, which tends to be high in tannins with flavors of cherry, tar and rose. Nebbiolo is the chief varietal in wines like Barolo and Barbaresco. Piedmont is also home to the less sensitive Barbera, Dolcetto, Freisa and many other red varietals.
Located in the northeastern corner of Italy, the Veneto region gives us fruity and easy-drinking Valpolicella and its intensely flavored counterpart, Amarone della Valpolicella, from a blend of Corvina, Corvinone, Croatina, Oseleta, Rondinella and Molinara grapes. The production of the latter involves an interesting technique called appassimento, by which the grapes are dried for 3 weeks to 3 months before being pressed and vinified to concentrate the color and flavor of the wine.
Red Wines: Spanish Wine Regions and Their Varietals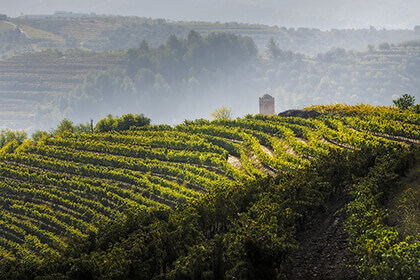 Over in sunny Spain, a wide selection of red wines await, among them many exceptional values for quality. Arguably the best known red wine grape varietal of Spain is Tempranillo, known as Tinto Fino in Ribera del Duero, Cencibel in La Mancha and Ull de Llebre in Catalonia. In the DOQ Rioja, Tempranillo finds its spiritual home, producing wonderfully tannic and robust wines matured in oak for 1 year (Crianza or Reserva) or 2 years (Gran Reserva). Wines of Rioja are also aged in the bottle before being commercialized for 1 year (Crianza), 2 years (Reserva) or 3 years (Gran Reserva), to make sure they evolve enough before consumption. Over in the DOQ Priorat region of Catalonia, Tempranillo is traded in for beautifully balanced blends of Grenache (locally known as Garnatxa) and Carignan, sometimes complemented by international varieties like Cabernet Sauvignon, Merlot and Syrah.
Red Wines of the New World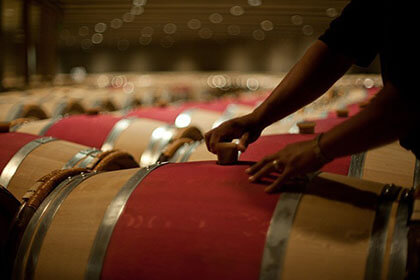 New World wine regions are considered those to which Vitis vinifera and the winemaking tradition was imported during the Age of Exploration, beginning in the 15th century. New World wines are often described as riper and more fruit-forward in flavor, with less acidity and higher alcohol. This is, however, a generalization with many exceptions.
The most famous of American wine regions is the Napa Valley AVA in California, best known for the classic "Napa Cab," a Bordeaux-style blend dominated by Cabernet Sauvignon and aged in American oak to produce luscious, full-bodied, well-rounded wines with savory notes of pepper and smoke. Cabernet Sauvignon is also the most popular red wine grape in Sonoma County, though this region is characterized by several different mesoclimates, the cooler of which are better suited to Pinot Noir. Pinot Noir is also the chief red varietal in the Willamette Valley, the largest region in the state of Oregon. Oregon Pinot Noir are considered Burgundian in style with the focus placed on the terroir, rather than the winemaking, and are often matured in French oak rather than American oak, which imparts notes of cinnamon, vanilla and clove. These wines also offer flavors of cranberries and earth and are usually more nuanced and subtle than the very fruit driven wines of Napa Valley.
In the Southern Hemisphere, Australia has become one of the biggest producers of red wines, focusing mostly on Shiraz and Cabernet Sauvignon from the South Australia region and New South Wales. The Barossa Valley is considered the most prestigious area, producing old vine Shiraz with smoky, spicy qualities, as well as GSM (Grenache, Syrah, Mourvedre) blends in the style of the Southern Rhone. In the cooler climate terroirs of the Victoria region, the cultivation of Pinot Noir has become especially popular.
The Ever-Expanding World of Red Wine
Although the regions and red wines mentioned above are some of the most popular, the world of red wine is extremely diverse with many other areas producing their own classics. Think of the Carmenere of Chile, the Malbec of Argentina, the Pinot Noir of New Zealand and the Pinotage of South Africa. As the traditional 30-50 latitude "wine-growing band" stretches north and south due to both the effects of global warming and modern technological innovations, ever new wine regions are popping up with new red wines that are just waiting to be discovered.
This article has focused on the most classic varietals and styles produced in each region, but the reality is much more nuanced. There are certainly producers in every wine producing region who decide to defy tradition and pioneer the cultivation of a new varietal or the elaboration of a new style (sweet or dry), which they feel better expresses their own philosophy or the characteristics of the terroir.
So what is red wine? Red wine is an expression of a single varietal or blend of the latter whose juice has been dyed with color bled out of the skin. The color, accompanied by tannins and aromatic compounds carry with them into the juice a single message about the terroir in which the grapes grew and the vintage that shaped their transformation.